Star Hopping to The Ring Nebula from Vega
I have cheated a little in the picture below and increased the magnitude limit on the stars to 4.5 from the usual 4.0, this is so you can see all the stars which make up the stretched diamond box of Lyra.
The faintest two stars (ringed in the picture) both shine at magnitude 4.3 and are easily naked eye visible in most skies. You don't actually need these two to find M57, but I thought it would be helpful to include them to help you be sure you've found the right constellation.
Location of The Ring Nebula in Lyra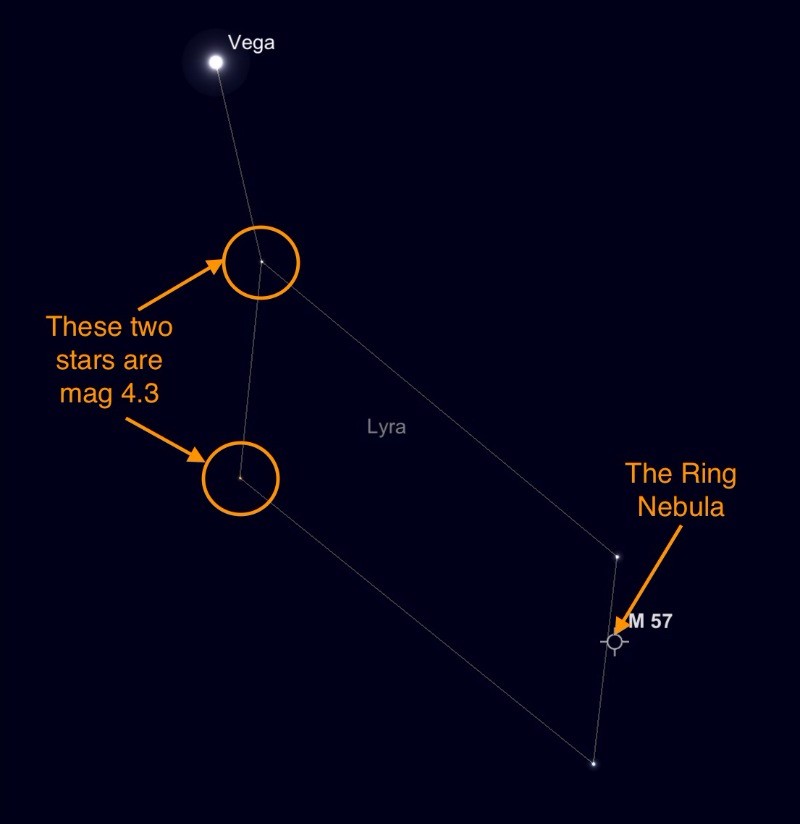 In the following picture I've added finderscope rings - blue for a magnifying finderscope and red for Telrad. You can see that the bright stars Sheliak and Sulafat both fit easily within the same view and that M57 is just off an imaginary line joining the two.
This a small and faint constellation which is easier to find in a darker sky. However, when you have it in your sights you can fit both Sheliak and Sulafat inside the same eyepiece view at a low magnification.
Your hunt for the Ring Nebula is easier if you can see the magnitude 5.2 star HR 7162 near Sulafat (highlighted on the picture below), because M57 is midway between Sheliak and HR 7162. However, this is not an easy star to see in a polluted sky and is not essential to finding M57, I have found the Ring Nebula by going straight to a low magnification eyepiece and pointing my scope in the right area between Sheliak and Sulafat.
Finding M57 With HR 7162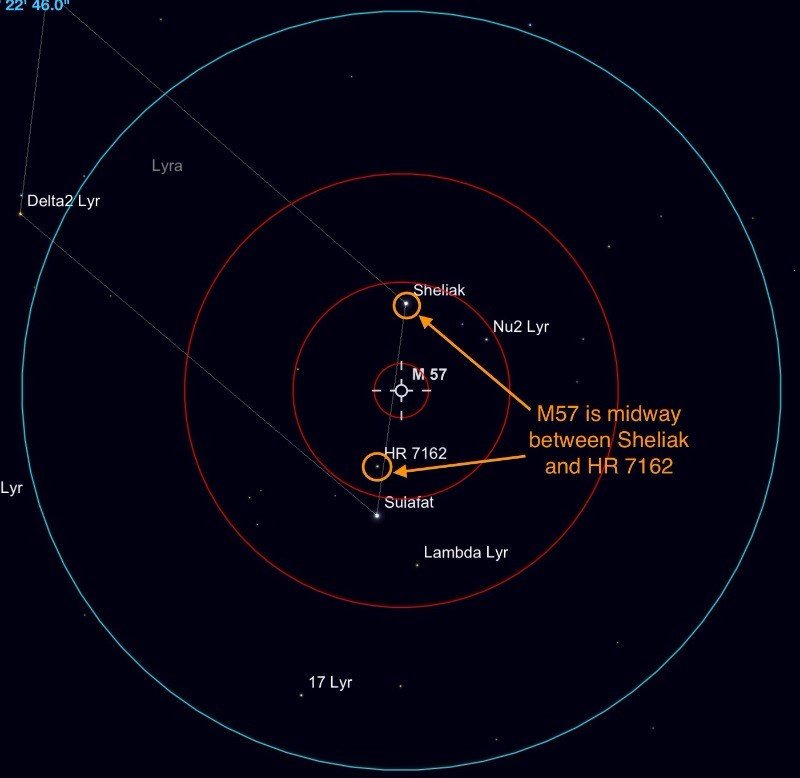 Images Courtesy of SkySafari Pro - www.SkySafariAstronomy.com.

If you start with a low magnification eyepiece (one with a longer focal length) you should pick up the planetary nebula fairly quickly, it looks like a hazy disc, but don't be discouraged if you don't see it straight away.

A large field of view with low magnification is a double-edged sword. On the plus side, it means you will definitely have the nebula in your eyepiece if you can see Sulafat and Sheliak in there. The minus side is that the nebula will be very small, so small in fact that it could take some finding if you are not used to seeing nebulae.
For me they are a bit like ghosts. When you look directly at them they seem to disappear but, glance off to the side, and they magically come into view in your peripheral vision.
Don't pressure yourself, take time to examine the field of stars, making sure to keep Sulafat and Sheliak in your view.
You are going to see dozens of tiny pinpricks of light, looking almost identical to each other. Finding the Ring Nebula is a bit like a stellar version of 'Where's Waldo?'. After a while of getting used to the view, eventually something will catch your eye that is not quite right, it is different from all the other points of light coming from stars in your field of view.
It may take you a moment or two to pin it down, but if you have the sensation that the something you just saw is it... then it probably is.