M42 and M43 - The Orion Nebula
We start the year with an opportunity to see the night sky's brightest nebula in perhaps its most recognizable constellation, Orion.
Also known as The Hunter, Orion's bright stars are easily visible even in urban skies. It is famed for the row of three bright stars which make up Orion's 'belt', as well the two pairs of bright stars above and below, which make up his shoulders and legs.
Look towards the southern horizon and about half way up to the zenith to see his unmistakable form dominating that part of the sky.
Let's start our hunt for the nebula with a look at the constellation as a whole. The screenshot below shows the stars in Orion which are brighter than magnitude four. The two views are exactly the same, but the one on the left includes the imaginary lines of Orion's 'body'.
Orion With and Without Constellation Lines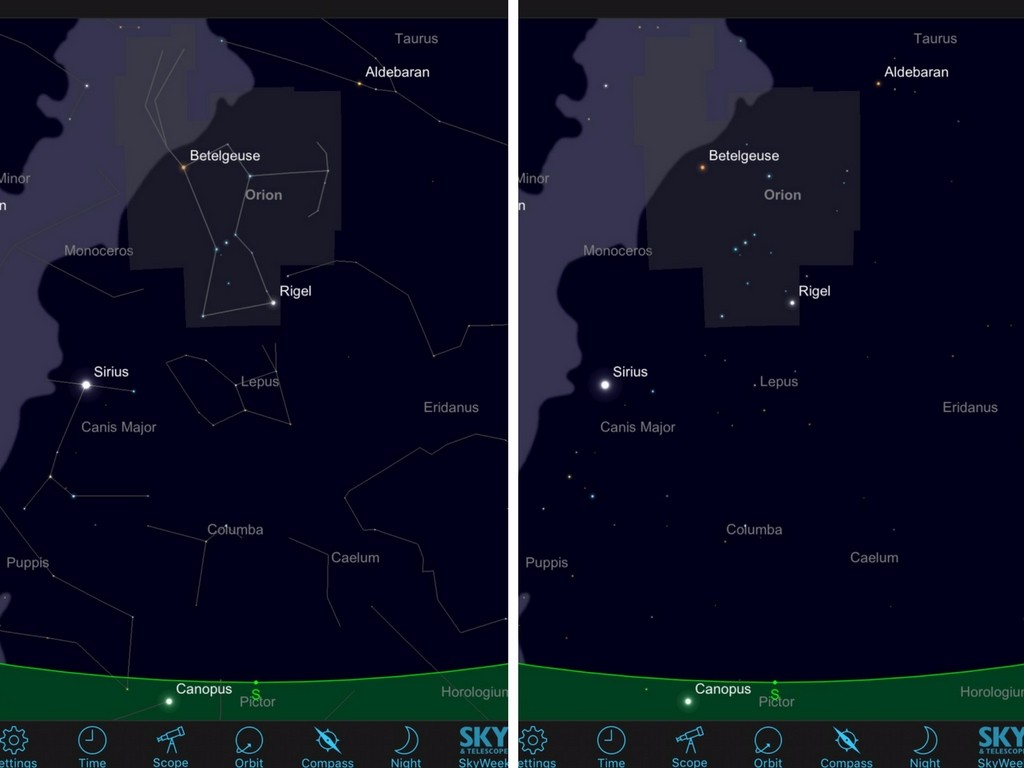 Images Courtesy of SkySafari Pro - www.SkySafariAstronomy.com.

This next picture zooms in on his individual stars (still all brighter than magnitude 4) and puts names to the brightest ones.
Nair al Saif (pointed to in the picture), is where you can find M42 and M43.
Named Bright Stars in Orion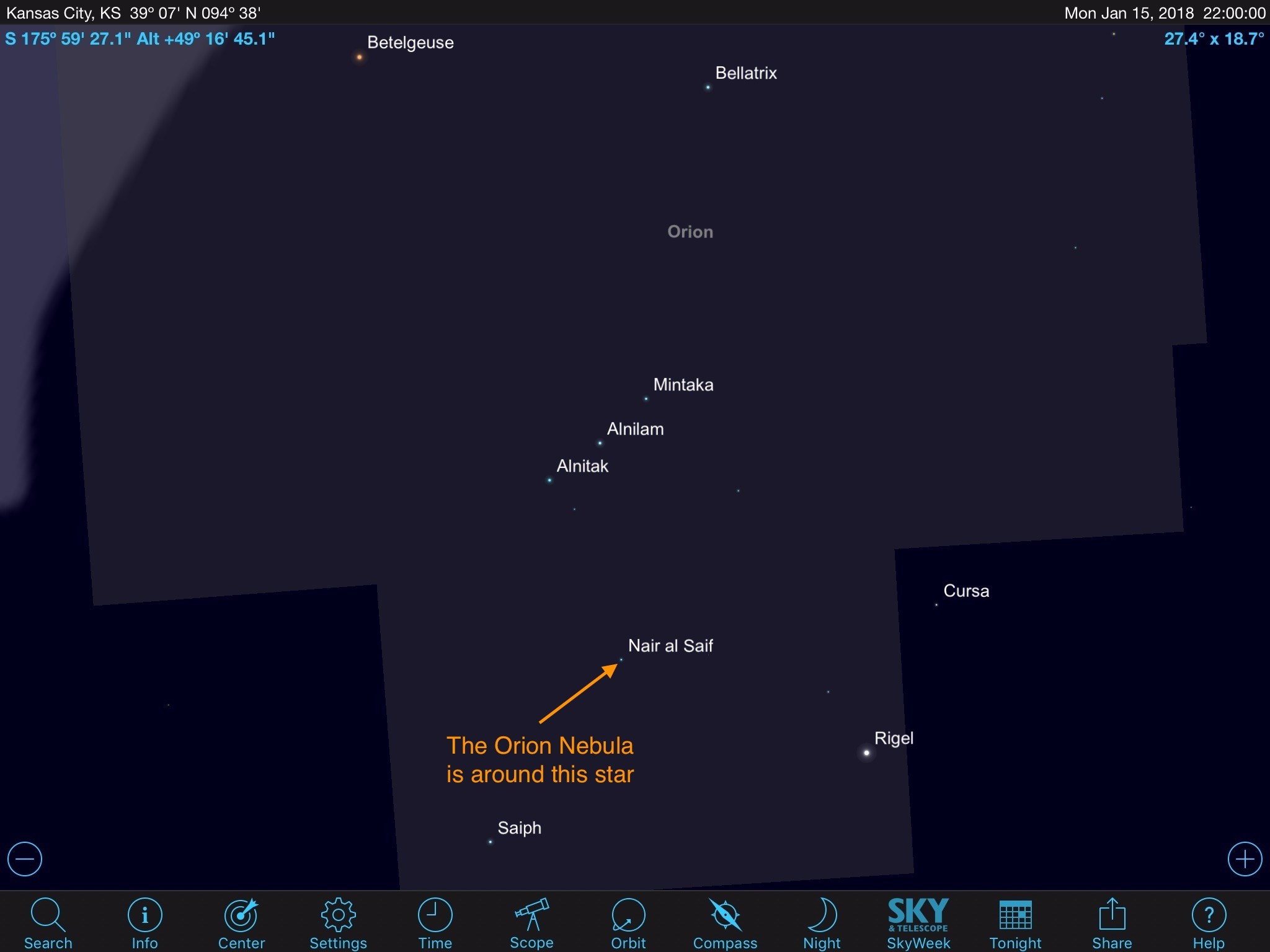 Although Messier catalogued them separately, M42 and M43 are two parts of the same nebula system, called the Orion Nebula. They are an easy find even with a low powered scope and are visible to the naked eye under very dark skies.
The easiest way to find it is start with Alnilam, the middle star in Orion's 'belt', and go directly down from there to a line of three fainter (but still bright) stars, which are said to be Orion's 'sword'. Above the bottom star of the 'sword', Nair al Saif, is where the nebula is found.
Finding Orion's 'Sword'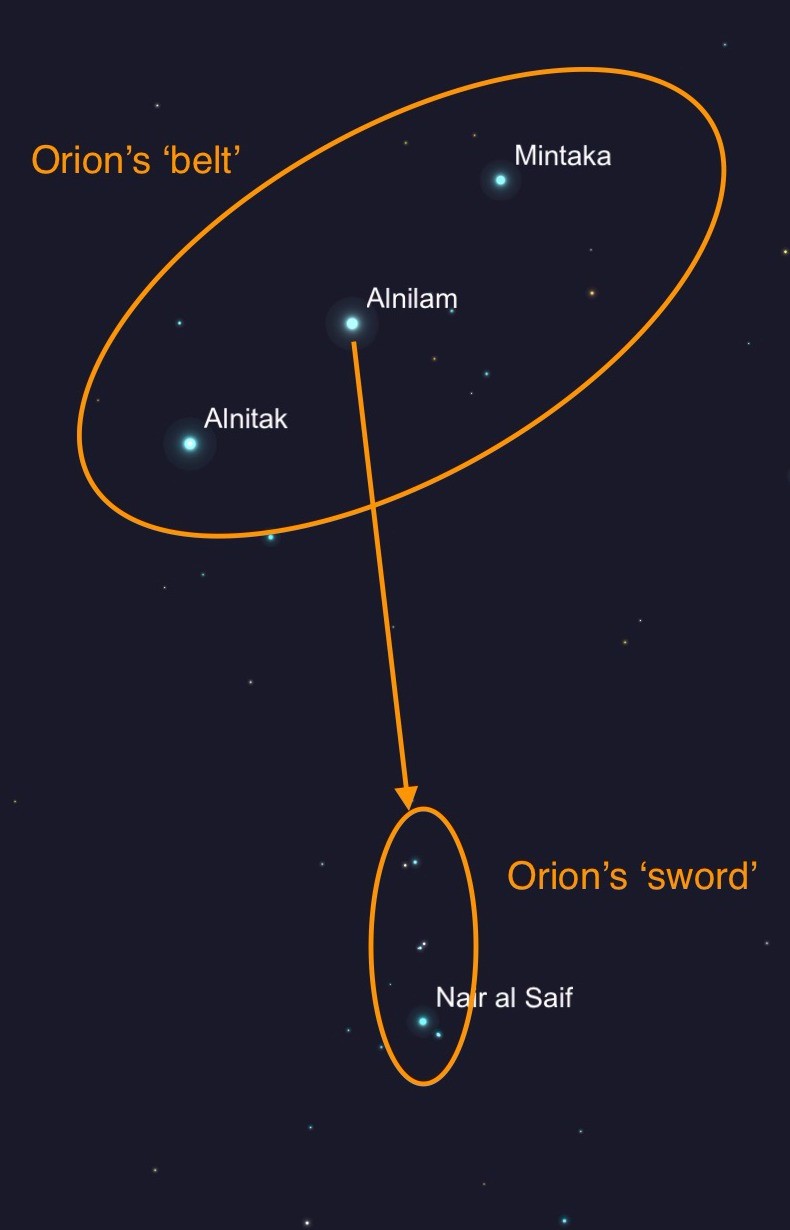 Finally, if I add the 7° finderscope ring (blue) and Telrad circles (red) you can see exactly where to look. I've also included stars to magnitude 6.5 now and images of the nebulae themselves, which you will see through a magnifying finderscope (although they won't be as clear and bright as this in your scope).
Finderscope Rings and Stars to Magnitude 6.5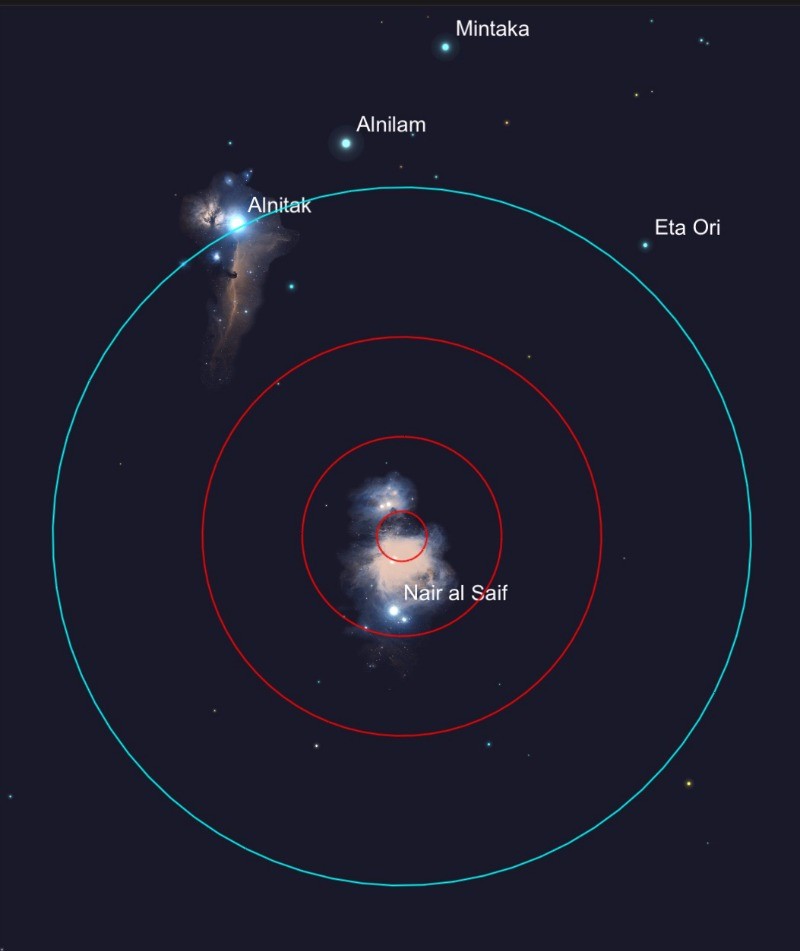 Now you know where to find it, what should you expect to see at your eyepiece?