.
How to Find M94 With Your Telescope
Now you know approximately where to find it, it's time for the precise stepping stones to seeing it in your eyepiece.
The two bright stars of Canes Venatici, Cor Caroli and Chara are easy to locate 'under' the handle of the Big Dipper, away from the north celestial pole (show as 'NCP' in the picture above).
Cor Caroli is the brightest at 2.9 whilst Chara shines at 4.2, which is still a bright star and visible in all but the most polluted skies.
The image below shows where to position these stars in your viewfinder (7° blue circle, left) or Telrad circles (red circles, right) to have M94 within easy reach of your eyepiece.
Where to Find the Cat's Eye Galaxy in Relation to Cor Caroli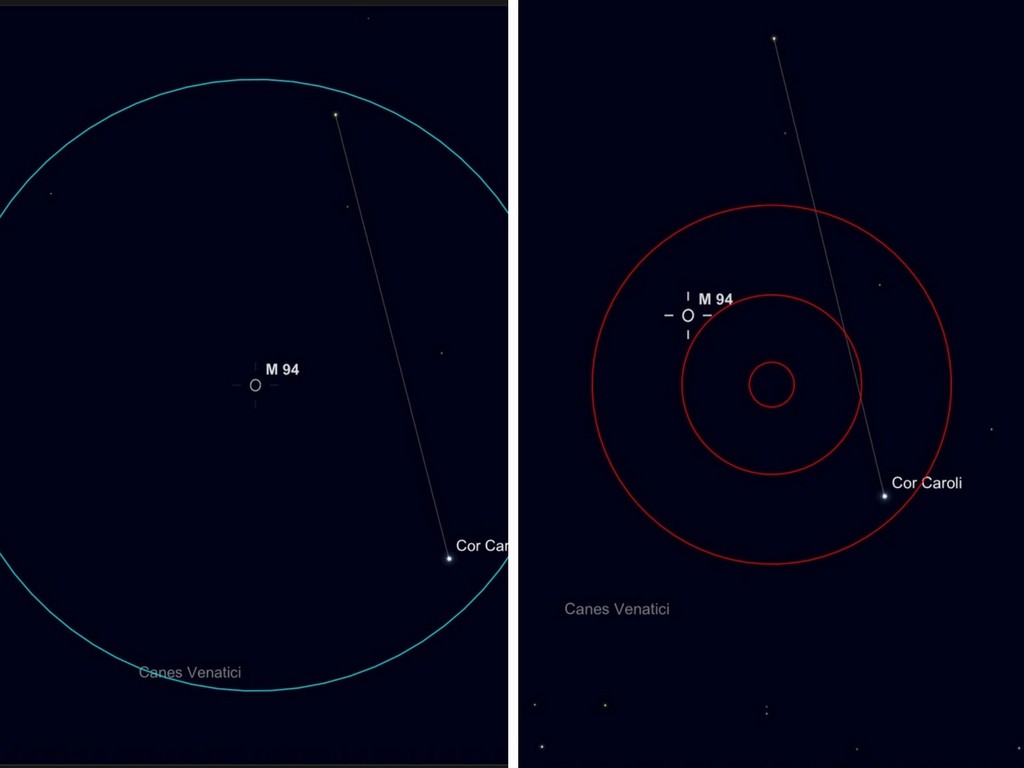 Image Courtesy of SkySafari Pro - www.SkySafariAstronomy.com.

You can see in each picture that M94 is at right angles to the halfway point of the imaginary line that connects the stars Cor Caroli and Chara.
Start your hunt for M94 with a low magnification eyepiece (one with a higher focal length, e.g. 25mm or 30mm). Begin with the halfway point of that imaginary line centered in your finderscope. Move out from that line in the direction of the Big Dipper's 'handle', about one third of the distance between the two stars, and you will be very close to having M94 centered.
At this point you need to look through your telescope's eyepiece where, ideally, you'll be enjoying a 1° field of view, or larger. Gently move your telescope in that region until you see what looks like an out-of-focus star, there will be no detail of color or shade.
When you have it, firstly feel free to congratulate yourself: you have discovered M94.
Secondly, swap in a higher power of eyepiece (smaller focal length) to grow the size of the galaxy. Make sure to center the galaxy in your eyepiece first, so that you don't lose it as you swap eyepieces.
Use averted vision and more magnification to see if you can tease out any shapes to the light. If you have access to a suitable filter, this will also help your define some structure in the galaxy's shape.